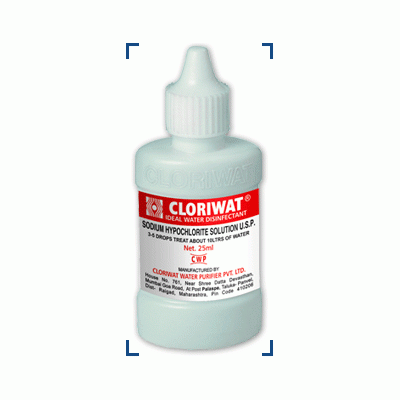 businessSuraj Hygiene Products Ltd. (India )
personAbhishek Ranawat
stay_current_portrait View Mobile Number
home101/d, Vardhaman Estate, Chivda Galli, Near Lalbaug Ka Raja, , Mumbai, MAHARASHTRA, 400012, India
\
CLORIWAT WATER DISINFECTANT
GENERAL INFORMATION
In many countries frequented by tourists, the quality of the drinking water, intended for consumption, is often less reliable than what you are used to at home. Drinking water is a common cause of stomach and intestinal upset (diarrhoea), as well as diseases like typhoid and paratyphoid fever, dysentery, cholera, and others. You can greatly reduce the risk of infection by paying constant attention to what you eat and drink. Take extra care with drinking water! Always use Cloriwat in areas where the bacteriological content of the drinking water is unreliable, for the sake of your health, be well prepared before setting out on a trip or holiday. PREVENTION IS BETTER THAN CURE!
SAFETY RECOMMENDATIONS
Store out of reach of children. Store separate from food and drink and animal feed.
SPECIAL RISKS
Can irritate eyes and respiratory tract. Forms toxic gases in contact with acids. Cloriwat can leave stains on clothing. (Note: applies only to Cloriwat in undiluted form)
DOSAGE:
Add 3 to 5 drop in 10 litre water, shake or stir briefly and let it rest for 30 minutes. Use Cloriwat only to disinfect water from taps and pumps and wells that in principle is intended for consumption. Cloriwat should only be used in clear water. For drinking water on pleasure boats and inland craft, and in caravans and campers, for the first filling at the start of the season use one bottle of Cloriwat (25 mL) in at least 250 L water, 3to 5 drops is good for 10 litres water.
Storage condition:
Protect from direct sunlight. Store in cool dark place.
CAUTION:
During transport Cloriwat should be stored in plastic bag to avoid stains from possible leakage. If you spill Cloriwat rinse well with water and dry with an old cloth or tissue paper.
ADVICE:
Prepare a supply of disinfected drinking water by disinfecting one or more bottles of water and storing them in the refrigerator. In this way you will always have a supply of cold water that is safe to drink.
ACTIVE SUBSTANCE:
Sodium Hypochlorite Solution U.S.P
NATURE:
Liquid
Cloriwat is not flammable or explosive
CONTENTS:
25ml, 100ml, 500ml, 1L, 5L. 20L. pack
MANUFACTURER:
CLORIWAT WATER PURIFIER PRIVATE LIMITED